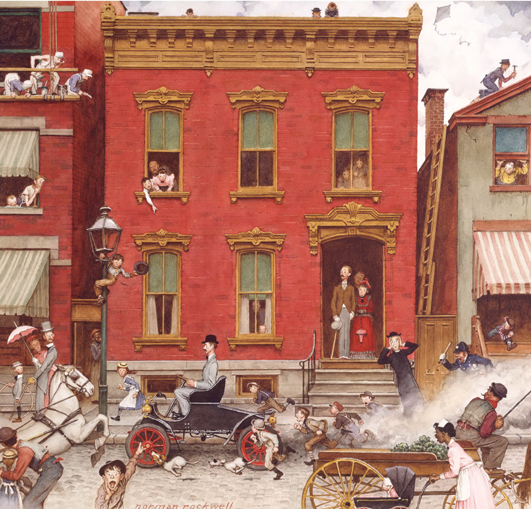 Born Norman Percevel Rockwell in New York City on February 3, 1894, Norman Rockwell knew at the age of 14 that he wanted to be an artist, and began taking classes at The New School of Art. By the age of 16, Rockwell was so intent on pursuing his passion that he dropped out of high school and enrolled at the National Academy of Design. He later transferred to the Art Students League of New York. Upon graduating, Rockwell found immediate work as an illustrator forBoys' Life magazine.
His piece "The Street was Never the Same Again" is available for custom reproduction to fit your home decor. See this image on RequestAPrint. 
By 1916, a 22-year-old Rockwell, newly married to his first wife, Irene O'Connor, had painted his first cover for The Saturday Evening Post—the beginning of a 47-year relationship with the iconic American magazine. In all, Rockwell painted 321 covers for the Post. Some of his most iconic covers included the 1927 celebration of Charles Lindbergh's crossing of the Atlantic. He also worked for other magazines, including Look, which in 1969 featured a Rockwell cover depicting the imprint of Neil Armstrong's left foot on the surface of the moon after the successful moon landing. In 1920, the Boy Scouts of America featured a Rockwell painting in its calendar. Rockwell continued to paint for the Boy Scouts for the rest of his life.
The 1930s and '40s proved to be the most fruitful period for Rockwell. In 1930, he married Mary Barstow, a schoolteacher, and they had three sons: Jarvis, Thomas and Peter. The Rockwells relocated to Arlington, Vermont, in 1939, and the new world that greeted Norman offered the perfect material for the artist to draw from. Rockwell's success stemmed to a large degree from his careful appreciation for everyday American scenes, the warmth of small-town life in particular. Often what he depicted was treated with a certain simple charm and sense of humor. Some critics dismissed him for not having real artistic merit, but Rockwell's reasons for painting what he did were grounded in the world that was around him. "Maybe as I grew up and found the world wasn't the perfect place I had thought it to be, I unconsciously decided that if it wasn't an ideal world, it should be, and so painted only the ideal aspects of it," he once said.
To own your own reproduction of one of Norman Rockwell's famous pieces visit RequestAPrint for size and pricing on custom features we offer. Click Here. 
(Information credit: biography.com)