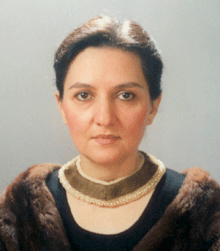 Mitzura Salgian is a Fine Artist with a masterful technique and reverence for detail. Her distinctive style is rooted in the Baroque richness of imagery and the Surrealist sense of marvelous to which she was drawn since her early teens. Mitzura is an American artist of Romanian origin. She was educated in her native city of Bucharest, where she received MFA from the Fine Arts Institute.
After moving to the United States, Mitzura began developing her artistic style and perfecting her technique. Her paintings have been widely exhibited in places like the New Britain Museum of American Art in New Britain, Connecticut; the Butler Institute of American Art in Youngstown, Ohio; the Society of Illustrators and Museum of American Illustration in New York City; the Trenton City Museum in Trenton, New Jersey; Nina's Choice Gallery at Bergdorf Goodman, New York City; Bergstrom-Mahler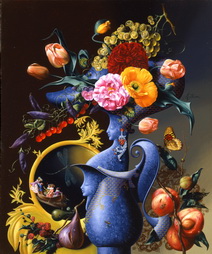 Museum in Neenah, Wisconsin; the National Arts Club, the Salmagundi Club Galleries and the New York University Washington Square East Galleries, all in New York City; the Attleboro Arts Museum in Attleboro, Massachusetts; the Turtle Bay Museum in Redding, California; the Danville Museum of Fine Arts And History in Danville, Virginia; the Huntsville Museum of Art in Huntsville, Alabama; the Museum of Texas Tech University in Lubbock, Texas; the World Bank Auditorium in Washington, District of Columbia.
Mitzura's work is part of the permanent collection of the New Britain Museum of American Art.
Recognized in art shows and competitions, Mitzura received medals and awards for her paintings. Among them: the Gold Medal of Honor, Audubon Artists; the Silver Medal of Honor, Allied Artists of America; New Britain Museum of American Art Award for Oil Painting; Best in Show Painting and Utrecht Award of Excellence, 27th Ellarslie Open at Trenton City Museum; Dorothy Barberis Memorial Award and Tamsin L. Holzer Memorial Award, Catherine Lorillard Wolfe Art Club; Midyear Show Honorable Mention Award, Butler Institute of American Art; Midamerica Pastel Society Award, Pastel Society of America; 4th Place in Show, Connecticut Academy of Fine Arts; Award of Excellence, Society of Newspaper Design; Certificate of Merit, Society of Illustrators and Museum of American Illustrators.
Mitzura created Editorial and Book Illustrations for clients like The New York Times, Gulf+Western, Games and Health magazines and she was commissioned by major publishers: Random House, Harper-Collins, Ballantine, St Martin's Press, Scholastic, Bantam, Harlequin, Pocket Books, Dell, Zebra, Thorndike Press.
Among Best-Seller Authors whose book jackets have been illustrated by Mitzura Salgian are: Agatha Christie, John Updike, Eric Lustbader, Anne Perry, Jeffrey Archer, Jude Deveraux, Bryce Courtenay, Liza Cody, Lavyrle Spencer, Paul Theroux, Andrew M. Greeley, Diane Pearson, Iain Pears, Linda Lael Miller, Edward Marston, Ann Cleeves.
As a Designer, Mitzura created original pieces for companies like Lenox and The Bradford Exchange.
Mitzura teaches at Parsons New School for Design – Parsons School of Fashion.
She is a member of the Executive Board of the Allied Artists of America.
To see Mitzura's collection click the link! http://www.requestaprint.net/artist/gallery.php?gallery_id=25