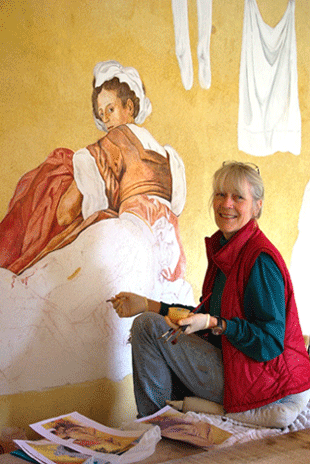 Monica Allen Perin, a painter from her youth, began her fine art studies at the California College of Arts and Crafts, Oakland, California. She subsequently obtained a Masters degree in the decorative arts (Museum Studies) at the Fashion Institute of Technology in Manhattan and consecrated her theses to the garden frescoes found in and around Pompeii.
Teaching art history with the University of Maryland she continued to teach studio art and paint watercolors of the Italian country and seaside.
Following a move with her French husband to the South of France in 1998 she expanded her repertoire to include 'buon fresco' painting on fresh lime plaster in the manner of the Renaissance, and is currently involved in an important project to add fresco work to the façade of the parish church in Le Pradet, France.
Monica is also a US Navy artist attached to the Naval Historical Center at the Washington Navy Yard, Washington D.C. As a 'combat' artist she has passed numerous weeks in ex-Yugoslavia and more recently with the Sixth Fleet in the Mediterranean documenting daily life in an operational capacity on board an aircraft carrier or logistics support with a forward deployed unit. Monica has exhibited her watercolors in Italy, the US and in France, in particular in Marseille, Toulon (awarded best in show for watercolors at the Salon des beaux-arts 2002), and most recently in Cannes where she was awarded the silver medal at the salon international des arts and culture.
Monica teaches watercolor painting and fresco from her studio in France.
To see Monica's work available for reproduction purchase click here