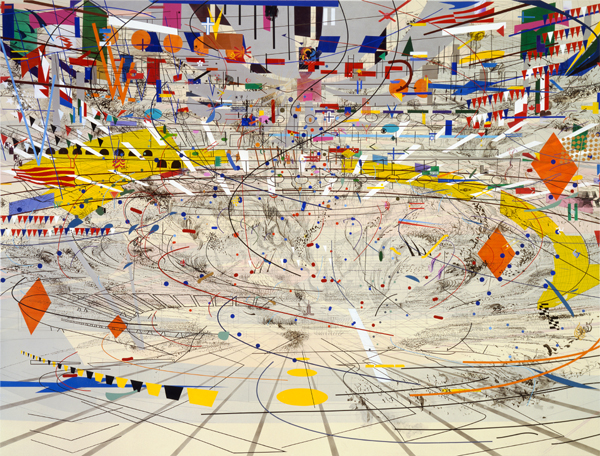 Julie Mehretu (Ethiopian/American, b.1970) is an Abstract printmaker and painter. She was born in Addis Ababa, Ethiopia, and moved to Michigan with her family in 1977. She began her education at the University Cheikh Anta Diop in Dakar, and then went on to earn a BA in Art from Kalamazoo College, and a MFA from the Rhode Island School of Art and Design in 1997.
To order your own reproduction of the piece above visit RequestAPrint.
Mehretu has lived and worked in New York, NY, since beginning her career in 1999, but she also has a studio in Berlin that she uses for part of each year. She produces large scale prints, drawings, and paintings that use heavy layering to create Abstract imagery from patterns and architectural photographs. Hundreds of thin and translucent layers of paint and paper cover the canvas of each painting. Critics have linked her work to nonliteral art movements ranging from Futurism to Constructivism. All of her works, regardless of format, involve symbolism drawn from graffiti, city maps, and comic book graphics. Explosions and sharp or arching line work are constant themes running throughout her body of work. Mehretu has drawn inspiration from the large-scale works of Jackson Pollock and Barnett Newman.
One of the artist's most widely known works is the 80-foot-wide mural located in Goldman Sachs tower entitled Mural. It is visible from the street, and was commissioned by the banking firm in 2010. Her painting Untitled 1is also popular and sold for over US$1,000,000 at Sotheby's auction house in 2010. Mehretu's drawings were included in an exhibition at the Museum of Modern Art in New York entitled Drawing Now: Eight Propositions in 2002. The Palazzo Grassi in Venice also hosted her work for their Praise Of Doubt exhibition in 2011. Her first major solo exhibition, Grey Area, took place at the Guggenheim Museum in New York in 2010. Her current body of work is part of a permanent collection in the Museum of Modern Art. Representation for Mehretu is handled by Marian Goodman Gallery in New York and White Cube of London. She has received the Berlin Prize, a MacArthur Foundation Award, and the American Art Award. Mehretu lives and works in New York and Berlin, Germany.