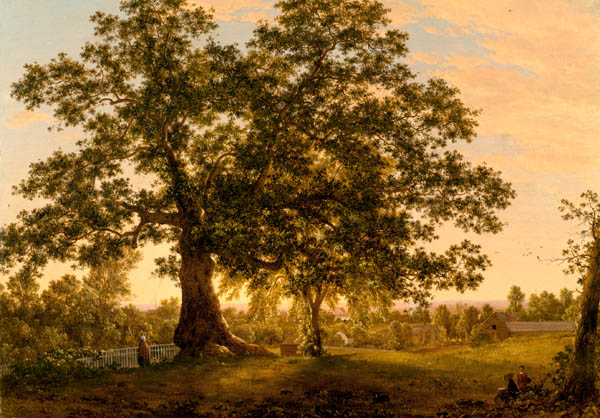 "The Charter Oak is a symbol of the spirit of independence that began the American Revolution. In 1687, Connecticut stood alone in New England in defying James II's orders to relinquish a 1662 charter that had given the colonies self-government. Legend has it that the candles went out suddenly at the showdown meeting and the charter vanished – into a hole in an ancient oak tree down the street which was said to have been a council tree of the Native Americans who watched for its leaves to appear in the spring to indicate the proper time for planting corn. When the tree was felled by a violent storm in 1856, a counting of its rings determined it to be almost a thousand years old."
The painting depicts the grand old tree with a fence just beyond it and the tiny figure of a woman to its left.
You can order your very own reproduction of this piece online here – https://bit.ly/2WqCyz3! This piece is a part of the Florence Griswold Museum​ collection. Every sale benefits the museum!
Text Credit: collections.flogris.org