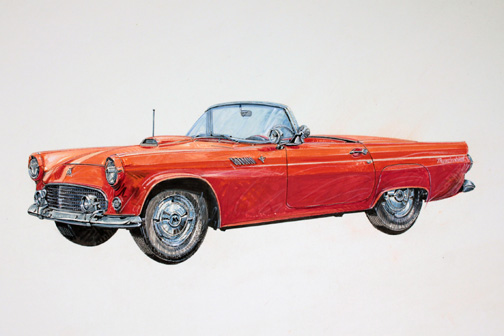 Born in 1913, Jerome Biederman was a nationally recognized illustrator of transportation. Whether his subject was an automobile, aircraft, or locomotive, his renderings were technically accurate and highly detailed. His medium of choice was tempera paint on illustration board.
The above image is from the Detroit Historical Society's collection of Biederman prints. They are all available for custom reproduction through RequestAPrint. 
After graduating from the American Academy of Art in Chicago, he entered the advertising world where he did almost everything except illustration. By 1940, he chose to leave the corporate advertising world and return to the creative atmosphere of a studio.
For many years, Biederman's steadiest assignments and commissions came from calendar companies. His work appeared regularly in Automobile Quarterly, Horseless Carriage Gazette and other magazines.
Before Biederman passed away in 1996, he donated many of his illustrations to the Detroit Historical Society's collection.
To see more of Jerome Biederman's work visit the RequestAPrint gallery.