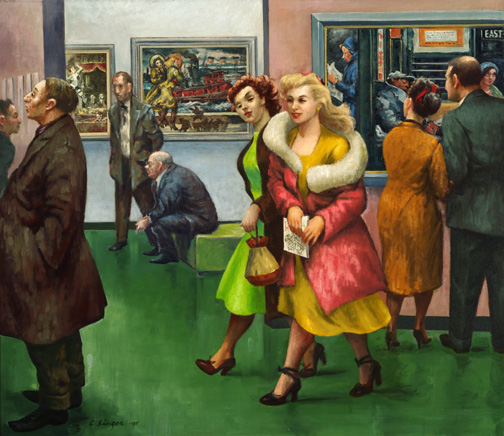 Clyde Singer was born in the small town of Malvern in 1908 and grew up in the rural hills of Ohio. Educated in the local public schools, he had an early interest in art and, after high school, attended the school at the Columbus Gallery of Fine Arts. In 1933 he received a scholarship to the Arts Students' League in New York City where his mentors were "American Scene" painters John Steuart Curry and Thomas Hart Benton. During his seven years in New York City, Singer developed a friendship with artist John Sloan, one of "The Eight" of the Ashcan School, a group of artists who painted gritty urban scenes and preceded the American Scene.
The piece above is available for purchase as a reproduction through RequestAPrint. Each sale directly benefits the Canton Museum of Art.
Primarily oils and watercolors, Singer's early work focused on rural and small-town life in Ohio. Later in his career his art shifted to scenes of contemporary urban life. In 1940 Singer became the assistant director at the Butler Institute of American Art in Youngstown, Ohio, and, except for military service during World War II, remained there until his death in 1999. Singer completed more than 3,000 paintings during his career and is best known for his American Scene paintings.
Singer's paintings are part of the permanent collections of many museums throughout the United States, and his work has been exhibited at the Whitney Museum, the Corcoran Gallery, the Chicago Art Institute, the National Academy of Design, the Massillon Museum, the Canton Museum of Art, and the Butler Institute of American Art.
With 120 full-color reproductions of his paintings, as well as photographs of the artist at work and with his friends and family,Clyde Singer's America places the artist in the context of his time and makes his work available to a new and appreciative audience.
Get your very own reproduction of this piece through the Canton Museum of Art gallery on RequestAPrint.
(Information credit: kentstateuniversitypress.com)