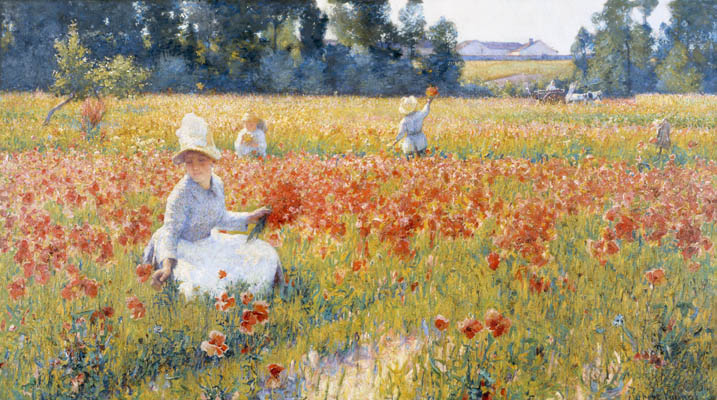 In the development of American Impressionism, Robert Vonnoh is significant both as a painter and as a teacher. He was one of the earliest painters to bring European impressionism to America and his canvases had cool tones and balanced compositions with much capturing of light and atmosphere. He completed more than 500 commissioned portraits, and he had a distinguished teaching career in Boston and Philadelphia.
Vonnoh was born in 1858 in Hartford, Connecticut and raised in Boston. He studied at the Massachusetts Normal Art School in 1875, and attended the Academie Julian in Paris in 1880. There he studied with Gustave Boulanger and Jules Joseph Lefebvre. In 1883, he returned to Boston where he taught at the Cowles School in 1884 and at the School of the Museum of Fine Arts in 1885.
The piece "In Flanders Field – Where Soldiers Sleep and Poppies Grow" is available for reproduction through the RequestAPrint gallery page found here.
Vonnoh studied French Impressionism and was impressed by Claude Monet, whose influence can be seen in his works of colorful landscapes and bright flowers. His painting at this time also demonstrates the dichotomy of many American Impressionists. Some of his works are almost Fauvist, with raw brilliant colors and paint laid on with wide brushes or palette knife, as in his painting "Poppies" in 1888. Other works from about the same time are done almost entirely in neutral tones, as in "Companion of the Studio", a solid three-dimensional portrait of John C. Pinhey, who was a fellow student at the Julian Academy.
To see his legendary piece and order a reproduction for your own home visit RequestAPrint. 
(Information Credit: gratzgallery.com)